Modeling
Audience
Who are we targeting with our design solution?
(This should be at least alluded to in the Objective section and then further described here.)
Law Enforcement Agencies

Police Chief

Police Officers

New Hires

Trainers

Social Workers

Advocates

Psychologists
Personas
Personas describe the type of person we are designing this for. Include full persona documentation (based on empathy mapping) or at least an overview of each persona plus links to the complete diagram/visual for this persona. Our design concept is geared toward Law Enforcement Agencies in a Global sense.
For this project, we are focusing on Georgia and Mongolia where the policing guidance has just started to be adopted after Domestic Violence was recently recategorized as a crime against the human rights of a person regardless of gender, race, ethnicity, religion, sexual orientation, social status, and disability.
Law Enforcement Agencies

Police Chief

Police Officers

New Hires

Trainers
Concept Map
Our concept was to create a Training Portal that would be available for trainings for all officers, trainers, chiefs, all new hires, advocates, lawyers, etc.
This training would be available at all precincts as part of their mandatory training and it is a tool that is focused on education about trauma, cultural sensitivity, bias, primary aggressor, police culture, interviewing, and more. The portal would contain introductions, training material with videos, explanations, and followup trainings.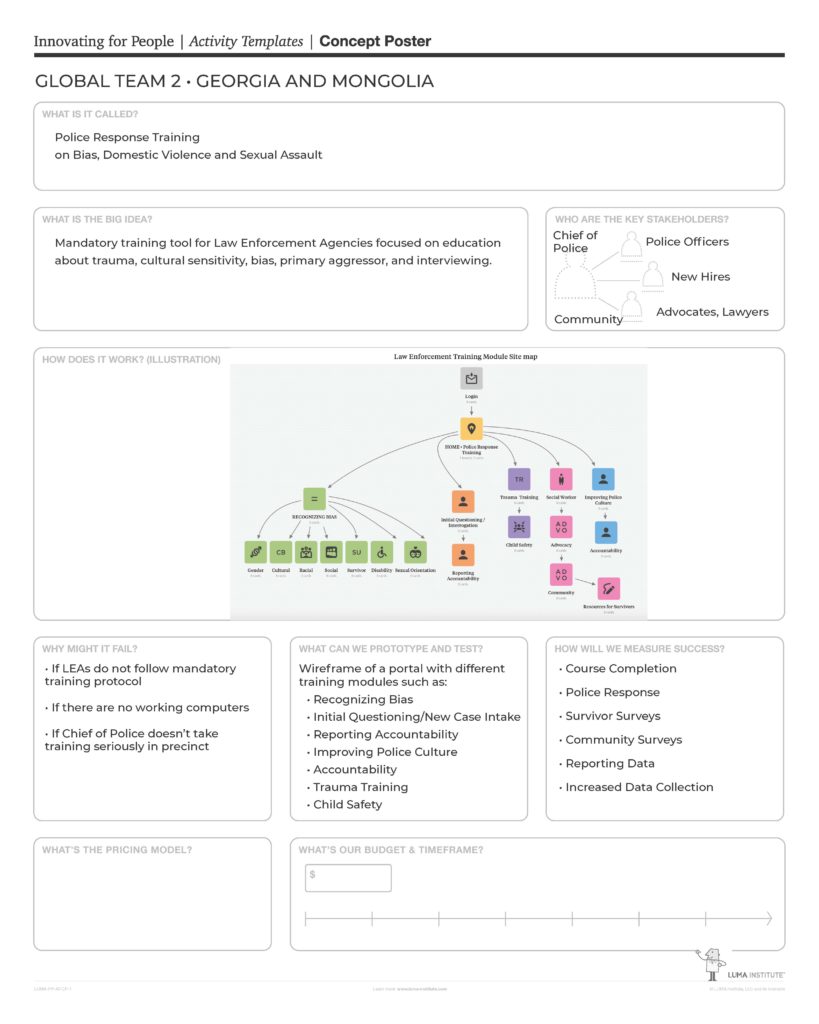 Site Map
This is the proposed Site Map for the Training Portal Modules.
There are 5 main topics:
Recognizing Bias
Initial Questioning/Interrogation
Trauma Training
Social Work
Improving Police Culture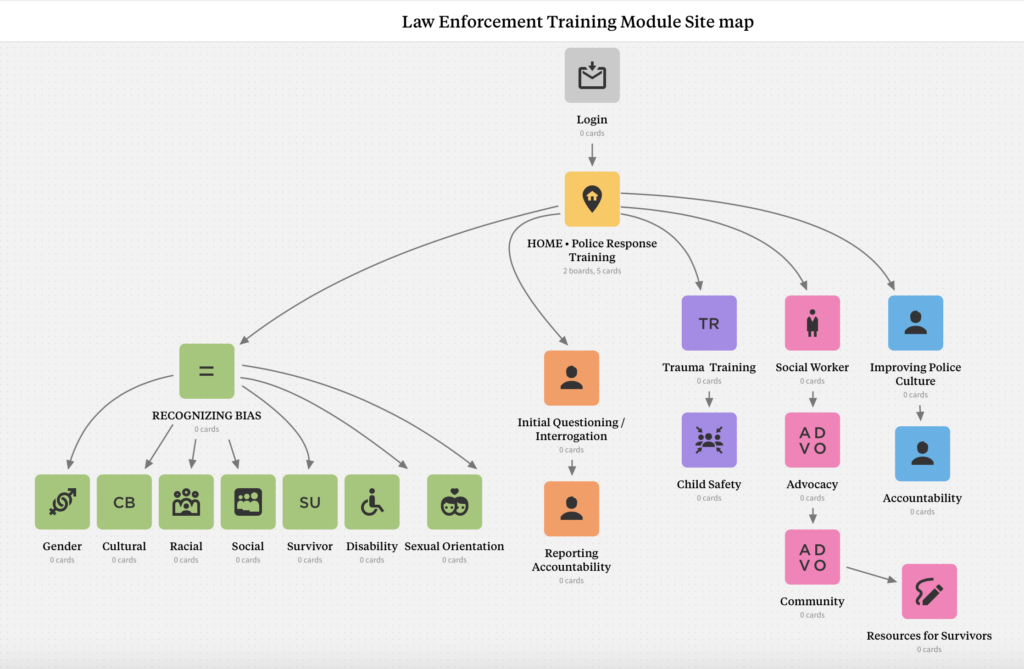 Within each Section, it is broken down as:
Recognizing Bias:
Gender Bias
Cultural Bias
Racial Bias
Social Bias
Survivor Bias
Disability Bias
Sexual Orientation
 Initial Questioning/Interrogation:
Questioning/Interrogation
Reporting Accountability
Trauma Training:
Trauma Training
Child Safety
Improving Police Culture:
Current Police Culture
Accountability
Social Workers:
Social Workers
Advocacy
Community Outreach
Resources for Survivors
Journey Map
User Scenarios (Context Scenarios)
Scenarios or stories about the ideal user experiences explain how the product fits into each persona's life and environment, and how it helps them achieve their goals. You should have at least a couple scenarios for each persona.
We came up with 3 different scenarios of how this product would actually be used by our two personas. One is about a new officer who has just been hired receives an email telling him to take the training. One is about a police chief wants to see how the training is going. The other is about when an officer is caught being biased.
Scenario 1 • Officer is a New Hire and is required to take mandatory training
Jerry is a newly hired police officer. He received an email saying that a mandatory training about Domestic Violence and Sexual Assault would begin next week. In the learning center of police station Jerry was taking courses about DV and SA given by instructors and websites. He was working hard in the process of training, and after two weeks he received an email saying that the training is completed, and he had passed the final examination.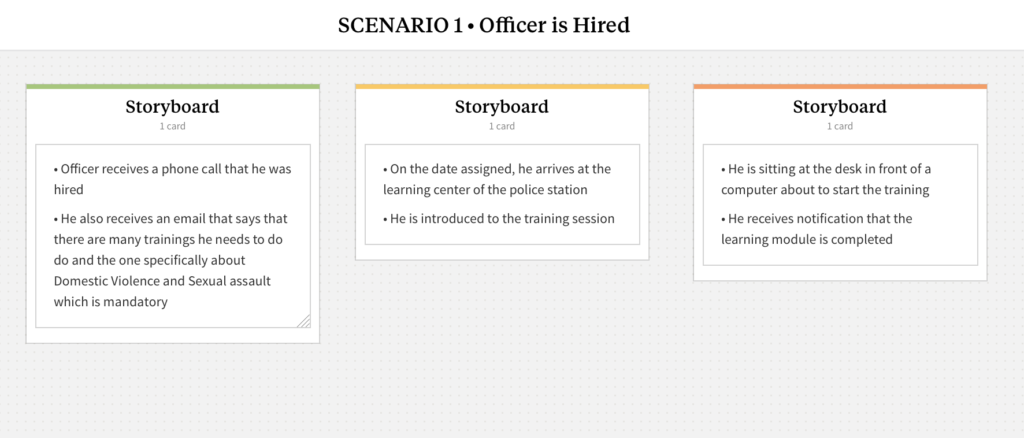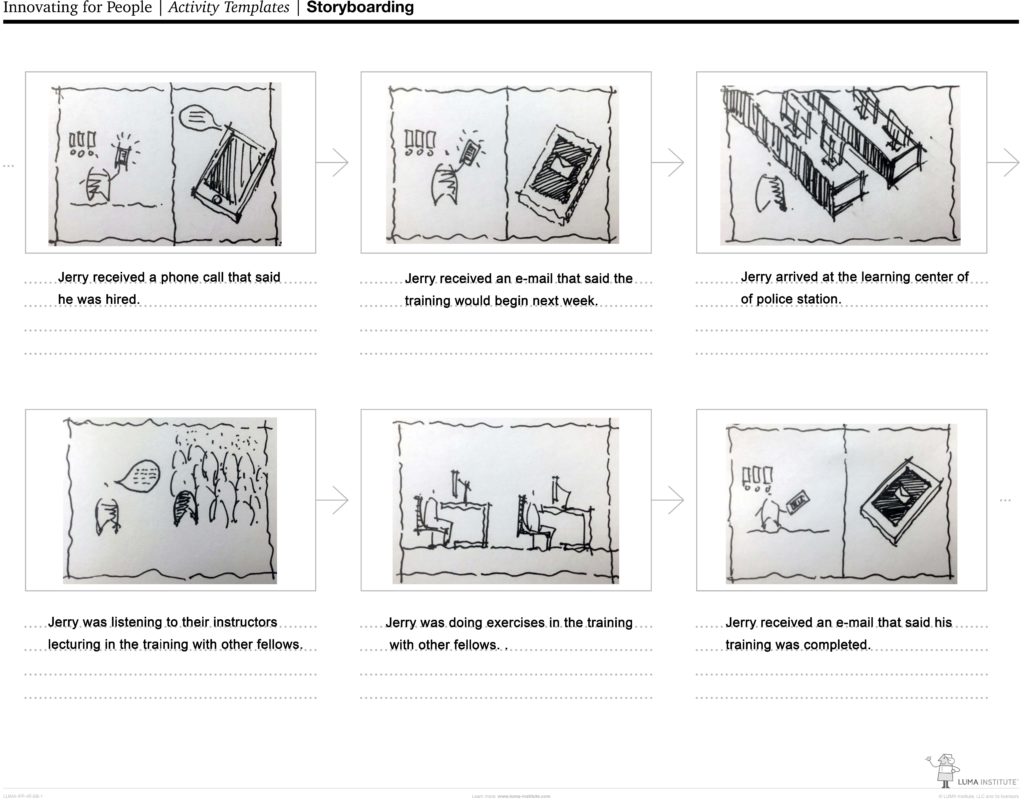 Scenario 2 • Chief of Police Receives Data from Training Modules
Wes is the chief of police. Recently he has been pushing to strengthen public's trust in police in sexual assault, gender bias and domestic violence cases by implementing a new police training system aimed at cases about sexual assault and domestic violence. One day, he receives an email reminding him to check how the training is going.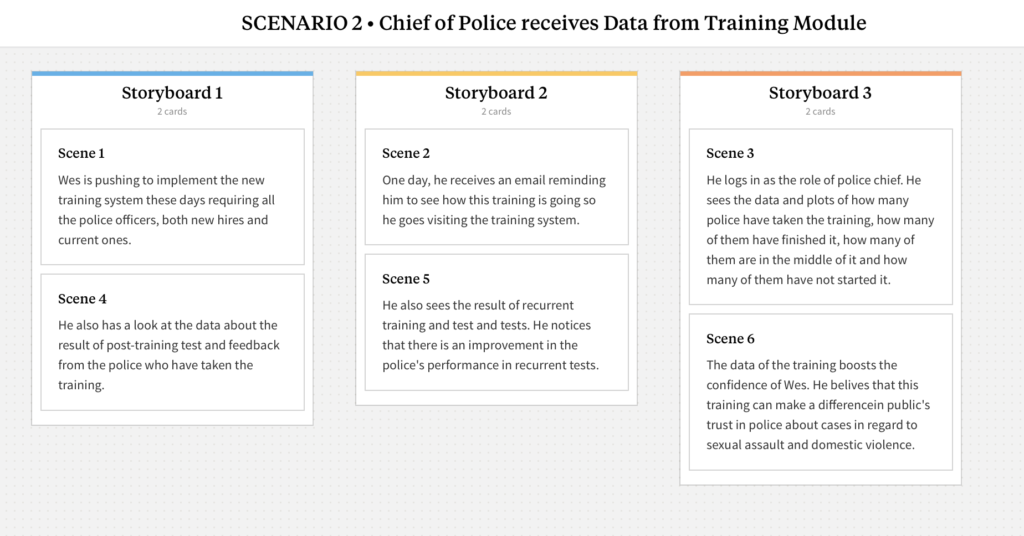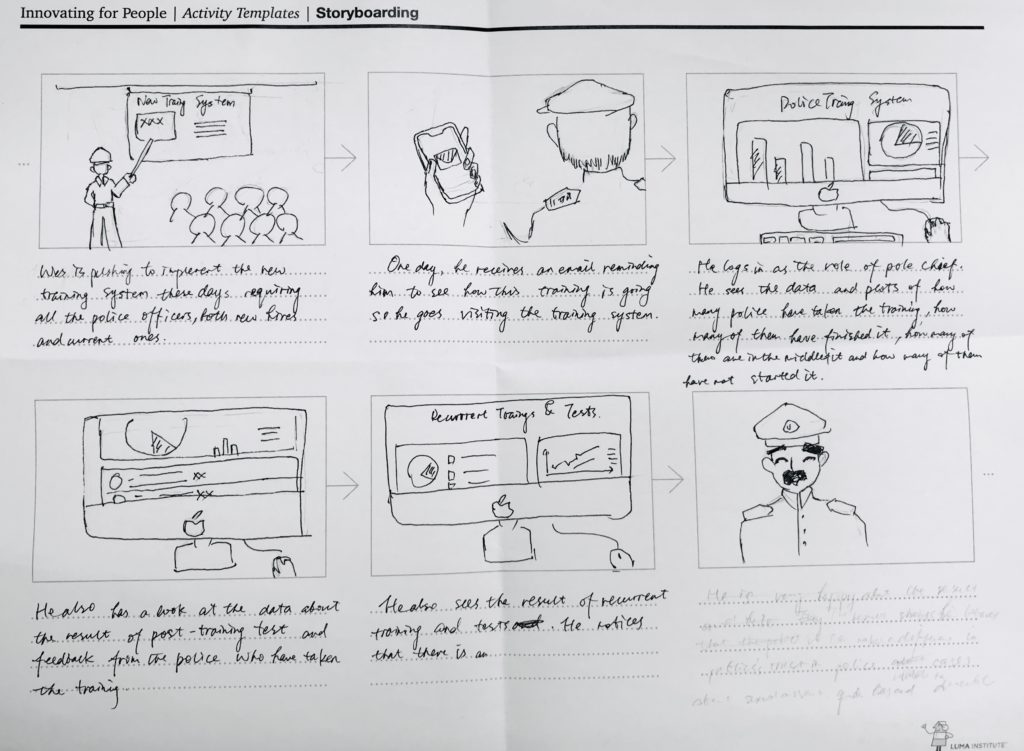 Scenario 3 • Officer is Caught Being Biased
Here the scenario is that an officer is doing an intake interview with a victim and she's clearly shaken up. He notices that the story she's telling is not cohesive and immediately makes a bias thought against the woman. His chief comes up and asks about the case. The officer says: "This makes no sense, it sounds made up. Did you see what she's wearing?" The chief immediately recognizes the bias and calls him into his office.