GreenLYFE: Creating thriving communities through the love of growing your own food
For our third project, Juniette and I decided to continue working on GreenLYFE. We have decided to work on this together for our Capstone project and really develop this App because we see a tremendous opportunity for it to grow and expand while doing something good for our communities.
Here is our Final Presentation: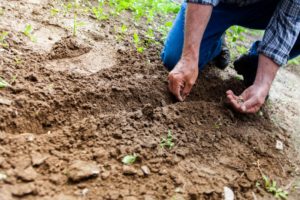 PROBLEM
Currently, information about sustainable food sources is spread out and there is not an "all-in-one" place to learn or communicate with like-minded individuals who are also interested in building community gardens and food forests through permaculture, aquaponics, and other methods.
GreenLYFE will connect like-minded individuals who are interested in sustainable living through community, permaculture, sustainable growing, aquaponics, and so forth.
Unique Advantage:
GreenLYFE would educate, connect people with different skill levels so they can work together, provide distribution of harvests 

(CSA) from different community gardens. GreenLYFE will 

be an all in one.
The main goals of this project are:
To bring people together who want to be sustainable

 in their food sources

To educate people about growing their own food

To build a community

To find the nearest community garden locations

To provide volunteer opportunities
STAKEHOLDERS
All of our key stakeholders have interest in empowering people to grow their own food and are health conscious. Some of them incorporate this interest into their hobbies while others through their work. We interviewed nine stakeholders:
Permaculture System Designer

Nutritionist and Permaculture System Designer for Schools

Farmer/Owner of Finca el Josco Bravo

Two Home Gardeners

Student Majoring in Nutrition

Vegetarian

Aquaponics Gardener

Garden Club Volunteer



Stakeholder Mapping

Carolina, Emiliano & Jade Mar • Permaculture Designers

Suley Angelica, Farmer

Farm El Josco Bravo – Puerto Rico • Organic Farm
FINDINGS
PROS of Community Gardens and Food Forests:

Offering a place for amateurs to learn from and communicate with masters

Connecting with neighbors in real life

Helping to feed low-income community members

Helping the homeless by providing food, shelter, and education to those who choose to help themselves by helping the local community

Creating abundance of food in food deserts

Connection to the earth

Distribution of work among community members instead of one person

Sharing knowledge

Job opportunities
Challenges:
Physical space

Lack of knowledge

Overwhelmed with where to find information
Weather
Local ordinances and zoning

Nosy or controlling neighbors

Homeowners Association (HOA)

Lack of materials, resources, and funding

Initial investment when starting a food garden

Budget

Getting the word out through Social Media / marketing

Shortage of support / volunteers

Communication methods
App Features Wish List • Interviewees felt the following features would benefit the app:
Ability to find a nearby garden or fellow gardeners
Volunteer/job opportunities

Tool and materials swap

Database for pests and common plant conditions

Ability to message other users and plan a meetup

Ability to input fruit trees and edible plant identification in your city

Grow charts for different zones

Information on companion plants

Educational courses about gardening, nutrition, etc
Workshop schedules
Ask the Experts option
Competition about gardening
Online gardening socializing games
Ability to schedule tasks so people can coordinate garden care/maintenance
Event Notifications
EMPATHY MAPPING & PERSONAS
We did an in-class exercise called Empathy Mapping. For this exercise, we took ideas from our interviews to create a map to be able to understand the attitudes and behaviors of our users in a deeper level. Empathy mapping also helps reveal the holes in our user data.
Empathy Mapping: A collaborative visualization used to articulate what we know about a particular type of user. It externalizes knowledge about users in order to 1) create a shared understanding of user needs, and 2) aid in decision making.

Empathy Mapping: The First Step in Design Thinking —Nielsen Norman Group
The traditional empathy map is split between 4 quadrants: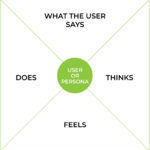 (What the user Says, Thinks, Does, and Feels) with the user or persona in the middle.
PERSONAS
Personas are fictitious yet realistic representations of our target audience. From the persona profiles, we can create user scenarios, feature generation and feature prioritization. Personas become meaningful and creates user empathy among the development team to ensure the user is always the focus of all efforts.
Here are our personas:
Jane • College Student, Single

Robert • Father, Married

Sharon • Retired Professor, Married
USER SCENARIOS (CONTEXT SCENARIOS)
Scenarios or stories about the ideal user experiences explain how the product fits into each persona's life and environment, and how it helps them achieve their goals. You should have at least a couple scenarios for each persona.
Scenario 1 Creating a New Community Garden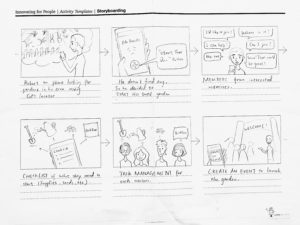 Robert on phone looking for gardens in his area using GPS Locator
He doesn't find any so he starts his own garden (START YOUR OWN button)
Robert receives MESSAGES  from interested members
He creates a CHECKLIST of what they need to start (supplies, seeds, etc)
He also creates a list of TASKS for each member to complete.
CREATE AN EVENT to launch the garden.
Scenario 2: Plant Identifier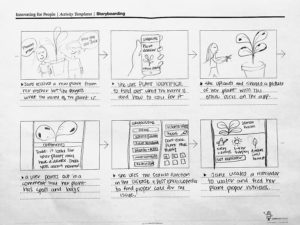 Jane receives a plant for her mom
Uses PLANT IDENTIFIER to find out what it is and how to care for it.
She uploads and share a picture of it with the other users
A user points out in a comment that her plant has spots and bugs
She uses the search function in the DISEASE AND PEST ENCYCLOPEDIAS to find proper care for the issue
Jane creates a reminder to water and feed her plant proper nutrients.
 Scenario 3 Volunteering Opportunity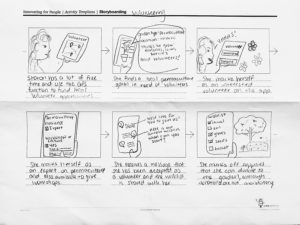 Sharon has a lot of free time and uses the GPS function to find local volunteer opportunities
She finds a local permaculture garden in need of volunteers
She marks herself on the app as an interested volunteer
She marks on the app that she is an expert in permaculture and available to give workshops
She receives a message from the group saying she has been accepted and sees the garden's wishlist
She marks off supplies that she can donate to the garden
REQUIREMENTS (DESIGN CONSIDERATIONS) • Key Elements
Some of the Requirements are: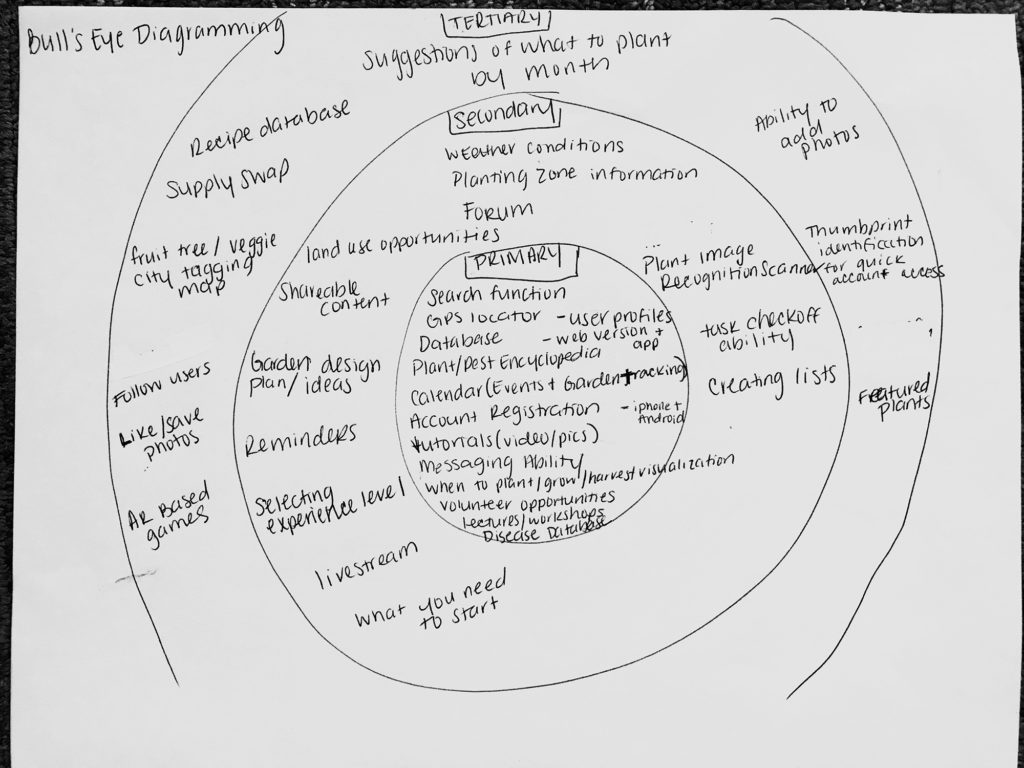 User Registration
GPS availability
News Feed
Explore Feed
Messaging Capabilities
Notifications
Videos
Add New Garden Locations
Add New Members
Add Checklists
Add Photos
Shareable Content
Tool Swap
Event Creation
Plant Database
Disease Database
Weed Database
User Search
Volunteer Opportunities
Design Ideas
DESIGN PROTOTYPE
Screens
Main Page

Sign Up

Search Page

Search Gardens

Search Gardens

Main Profile page

Create Your Own Garden

Create a Checklist

Garden Checklist

Garden Page

Donate

Lend

Member Page

Photo gallery

Volunteer Signup

Volunteer Info

Volunteer Appt Success
VIDEO
CHI COMPETITION ABSTRACT
GreenLYFE Abstract CHI Contest
POSTER FOR CHI COMPETITION