Monday's class we discussed the topic of bridging the research-design gap and moving from personas to scenarios. Bridging that research-design gap employs personas as the main character in a set of techniques that quickly arrive at design solutions as an iterative, repeatable, and testable fashion.
This includes:
Developing stories or scenarios as a means of imagining ideal user interactions.
Using those scenarios to extract design requirements
Using these requirements to define the product's fundamental interaction framework
Filling in that framework with ever-increasing amounts of design detail
Using the personas to create stories that point toward user satisfaction, this is called a narrative.
A narrative is like storytelling. Imagining a story about a person using a product leverages the creativity to a greater power than if we just imagine a better form factor or configuration of screen elements. Because of the intrinsically social aspect of a narrative, it is a very effective and compelling way to share good ideas among team members and stakeholders. Experiences designed around narratives tend to be more comprehensible and engaging for users because they are structured around a story.

— About Face: The Essentials of Interaction Design. Alan Cooper, Robert Reinman, David Cronin, Chris Noessel
We then discussed our personas with the other teams to get a better understanding of how we can better form these personas to our advantage and design a better social network for our project. We found that we can better understand the users of an interface based on imagined stories about their circumstances and how they may go about solving any need they may have. We were able to see that users for our specific project can be anyone who would be interested in joining a community garden or is interested in volunteering or is interested in learning more about how to grow your own food and harvest that food at a low price or as a trade for service.
Persona-based scenarios are concise narrative descriptions of one or more personas using a product or service to achieve specific goals. They allow us to start our designs from a story describing an ideal experience from the persona's perspective, focusing on people and how they think and behave, rather than on technology or business goals.

— About Face: The Essentials of Interaction Design. Alan Cooper, Robert Reinman, David Cronin, Chris Noessel
PRECEDENTS
When we looked at our precedents, we as a group, made a list of our favorite features from all the precedents we found. We used apps that had some similarity to what we are looking to create such as GivingGarden, Garden Compass, Garden Answers, Garden Planner, Seed to Spoon, Homegrown, and My Garden among others.
They each had great features such as:
Location-based Services
Weather Condition updates by location
Which fruits and vegetables will thrive in your area
Ability to communicate with other users or chat with experts
Calendar of when to plant seeds and when to harvest
Watering reminders
Ph /  Sun / Water requirements
Plant Database
Pest Database
Tool swap
Recipe Database
Suggestion as to what to plant (by month and area)
Land Opportunities
Educational Workshops/Videos
Calendar of events in your area
Account registration
Shareable content to social media outlets
How to's
Search Option
Volunteer Opportunities
Based on these, we create a Bull's Eye Diagram from the LUMA Methods.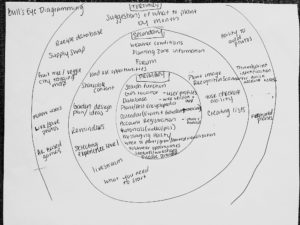 LUMA Concept Poster
What is it called? GreenLyfe
What is the big idea? For people who are looking for sustainable solutions to add to their lifestyle, GreenLYFE will connect like-minded individuals through ca community, permaculture, sustainable growing, aquaponics, and so forth. Unique Advantage: GreenLYFE would educate, connect people with different skill levels so they can work together, provide distribution of harvests (CSA) from different community gardens. GreenLYFE will be an all in one resource for people to come together to learn, create community, grow their own food and participate in activities outside.  
The main goals of this project are:
To bring people together who want to be sustainable in their food sources

To educate people about growing their own food

To build a community

To find the nearest community garden locations

To provide volunteer opportunities
GreenLyfe will be an app, but also have a web version.
Who are the key stakeholder?
Gardeners of different experience levels

Professional nutritionists, beekeepers, farmers,

People interested in starting their own garden

People interested in starting or joining a community garden

People already familiar with permaculture systems

People who want to volunteer their time in a community garden

People who want to eat healthier foods grown in their backyard
How does it work? (Illustrate the system of people/users, organizations, technology/platforms, data/information)
GreenLYFE will provide information for people of all levels of knowledge to become part of a community that is interested in gardening and growing their own food to harvest and enjoy. Also, this platform will allow for educational workshops, gardening meetups, informational events, tool and supply swap, volunteering opportunities, a huge plant and disease control database, geotagging, shareable content, user forum, video and livestream options, land use opportunities, and more.
Why might it fail?  People may not know it exists
People don't know how to search for it

Users stop using the app

If the app crashes

If the databases are not updated

If the app doesn't have fresh content
What can we prototype and test?  A preliminary version of the app with a beta testing group.
How will we measure success? (Frame this from the lens of your purpose, could be number of users but give it more qualitative measurement: X number of active users, with an average of Y interactions per week)
To be successful, GreenLyfe would have at least 1,000 active users and would have helped facilitate the start or maintenance of at least 10 community gardens of any type.
List Key Scenarios for our design (from wishlist and highlights from precedents)
Sharon wants to look for a community garden to participate in as a volunteer. She discovers the app GreenLyfe in the Apple store by looking for gardening and volunteer keywords. Here she finds a nearby garden that is looking for volunteers for their next seedling event.
Sharon wants to continue educating children about a healthy lifestyle from this early age. She uses the app GreenLyfe which she knows now she can find workshops in her area created especially for kids. In the app, she can apply to host a workshop in her home and the community will come together by bringing tools and plants that they can teach children about. Parents will have the option to buy tropical plants as well and the app will allow them to find information about what are the best weather conditions for each plant they get. If they need more information, the app also has an availability for them to ask questions about their plants and how to help them thrive.
Sharon needs some tips as to how to start a compost process in her home. She searches online and finds a forum through GreenLyfe and signs up. In the signup process, the app asks her what is her level of knowledge and she posts as beginner as far as composting goes. The app offers 2 options. It lets her know there is a compost workshop coming up in the next few weeks and she has the option to sign up for the workshop. Another option is to watch a video as to how to do it and the app lists the tools she will need to begin a compost bin.
Jane is looking for a place where she can gain some understanding of growing her own food but she doesn't have the knowledge, land, or the tools. Can she find a place where she can learn to grow food and harvest it to take home? She does a Google search to find this opportunity and she comes across the new platform GreenLyfe where she can sign up for the season as a volunteer and she will learn how to create a raised bed in a small area in her home and grow herbs and some vegetables she loves and learn when to plant them and how to help them thrive and later in the season she will be able to harvest these for herself.
Jane just received a plant as a gift from her mother since she mentioned she wanted to add some green in her modest apartment. She forgot the name of the plant her mom had told her so she goes on GreenLyfe to identify the plant. GreenLyfe has a big plant, flower and pest database and once she opens the app and goes into the Plant Identifier option, the app will use the image recognition function to scan the image and it takes a few seconds to search the database. Once the app searches the database, it shows her a list of possible matches. She then recognizes the plant and clicks on the right one. The app shows her the name of the plant, description of the plant, what the pH is, sun and water requirements and care instructions.
Robert's basil plant has some weird spots on it. He wants to know if his plant has a disease and how to cure it. He uses GreenLyfe to look up photos of other plants that look like they are in the same condition as his. Once he finds the photo, he clicks on it and sees disease information and comments from other app users on what they did to fix the issue. He used the Plant Disease Encyclopedia.
Robert finds a small white bug all over his garden. He doesn't know how to get rid of this pest without harming his plants. He gets on GreenLyfe to talk to an expert. He sends the expert pictures and asks for advice. He can also look up pests in the app via Pest Encyclopedia and see what solutions other users have posted.
Robert wants to start a garden with people in his area. He gets on GreenLyfe and look for current community gardens in his neighborhood via GPS and/or search. He doesn't find any in his area so decides to start one. He posts on the community garden section of the app looking for others who are interested and comes across Sharon and Jane. They chat on the app about ideas and agree to meet up. They use the app to plan the community garden they are creating (including planning out what kinds of plants they want, how they will be planted in the garden via a grid function, what supplies to buy and wish lists) and also leave it open for other interested members to join.
Jane decides to start planting herbs in her balcony. She doesn't know where to start so looks in the app store for something that will help guide her without doing a lot of research on Google. She downloads GreenLyfe, which will give her a quick and interactive guide to using the app upon opening for the first time. Jane is able to find out what her "planting zone" is and see what is good to grow at this time of year. She can categories by herbs, fruit, veggies, and other. She goes to the herb section and finds a few she likes. The app lets her add these to "My Garden," which helps keep track of users' gardens. Here she can see a calendar with when to plant, estimated growing times, seasonal changes. She can check off if she watered the plant that day, gave it plant food, etc. She is able to see what other users are growing in their balconies too. Jane can also search by "gardener level" (beginner gardener, intermediate gardener, advanced gardener) and see what she needs to start a garden from scratch. She can check off what tools she needs and what she already has.
Robert has researched aquaponics on his own and is now interested in starting an aquaponics garden. He uses GreenLyfe to learn a little more and chart out his project. On GreenLyfe, he can search by categories (aquaponics, hydroponics, permaculture, apartment garden, home garden, etc.). He goes to the aquaponics section and is able to post his own progress pictures, ask questions, follow or message other users, and get a push notification whenever there are new posts in this category. Using GPS or search, he is able to look up other users or experts in his area to connect. GreenLyfe gives him an "aquaponics starter guide" to check off what supplies he already has and what he is missing. Robert finds a few users in his area and connects with them. Robert now has other aquaponics friends and they can garden together.
Like many other 25-year-old girls, Jane loves to invite her friends to her house for dinner. She loves to cook on her own and it always gives her a sense of achievement when her friends are like "I love that! It's so delicious!". She cares about food safety, nutrition and whether is "green". She is willing to find a community and have a group of people sharing information, recipes and those same hobbies. She finds some useful information via GreenLyfe, she learns a lot from those online courses and lectures taught by expert nutritionists and gardeners.
Sharon has a lot of leisure time after retiring, watching her son graduated from university and found a decent job is her greatest pleasure. However, no more teaching or researching at school makes her a little bored and she needs more activities to fill the blank of her free time. She considers about starting a home garden on her own, but it's not easy at the beginning. Since that she's been a professor in college in her whole life, she doesn't really know how to grow food in a garden yard. Luckily, she finds this GreenLyfe community, here she meets professional gardeners, and those gardening lessons also help her a lot.
Robert is an avid gardener. He is interested in contributing to the community. He recently bought new supplies and wants to get rid of his old ones. He gets on GreenLyfe and goes to the Supplies section. He posts his available supplies. He is able to sell them by choosing his own price or give them away. A user contacts him saying he is interested. They are able to have the monetary transaction on the app and select a meeting place. Robert can mark the supplies as "sold" now.
Robert is a horticulturist and works at a botanical garden. He loves teaching people about plants and helping them with their gardens. Robert joins GreenLyfe to offer expert advice through an approval process that allows him to be marked as an Expert. Users can contact Robert if he allows it through his profile or he can block direct messages, but still answers public questions. Robert loves chatting so he decides to allow messages, which let him share pictures and videos. Robert also posts about upcoming workshops and lectures. People can RSVP for these events through the app.
Robert wants to keep track of what is being grown in the garden and what garden member has been tasked with what. He is able to make a community garden group through the app and make this public or open only to certain members. He can list what is growing in the garden, their condition, and add photos. He can chat with other garden members and share photos. Garden members can check off when they have completed a task and also post photos, videos, and text posts. Garden members can also check off if the task is in progress.
SCENARIOS: Explain the 3 scenarios (from the doc)
Describe a sample scenario for how this product would actually be used and from the perspective of one of your user persona(s). Use visuals including Storyboards and media such as Animatics and other video/time-based media.
Scenario 1
Creating a New Community Garden
Robert on phone looking for gardens in his area using GPS Locator

He doesn't find any so he starts his own garden (START YOUR OWN button)

Robert receives MESSAGES  from interested members

He creates a CHECKLIST of what they need to start (supplies, seeds, etc)

He also creates a list of TASKS for each member to complete.

CREATE AN EVENT to launch the garden.
Scenario 2
Plant Identifier
Jane receives plant from her mom.

Jane uses the PLANT IDENTIFIER in the app to find out what it is and how to care for it.

She uploads and shares a picture of it with the other users

A user points out in a comment that her plant has spots and bugs

She uses the search function in the DISEASE AND PEST ENCYCLOPEDIAS to find proper care for the issue

Jane creates a reminder to water and feed her plant proper nutrients.
Scenario 3
Volunteering Opportunity
Sharon has a lot of free time and uses the GPS function to find local volunteer opportunities

She finds a local permaculture garden in need of volunteers

She marks herself on the app as an interested volunteer

She marks on the app that she is an expert in permaculture and available to give workshops

She receives a message from the group saying she has been accepted and sees the garden's wishlist

She marks off supplies that she can donate to the garden
Scenario • Robert, Creating a new Community Garden

Scenario • Jane, Plant Identifier

Scenario • Sharon, Volunteering Opportunity